Dr. Chen Hongtian Meeting with Cai Yue, President of Shenzhen Industrial Park Association
2021.05.28
On May 25, 2021, Dr. Chen Hongtian, a member of the CPPCC National Committee, a Justice of the Peace appointed by the HKSAR, Chairman of Harmony Club, and Chairman of Cheung Kei Group met with Cai Yue, the President of Shenzhen Industrial Park Association along with fellow business delegates at the Shenzhen Harmony Building and had an in-depth exchange on their respective experiences of operating business associations.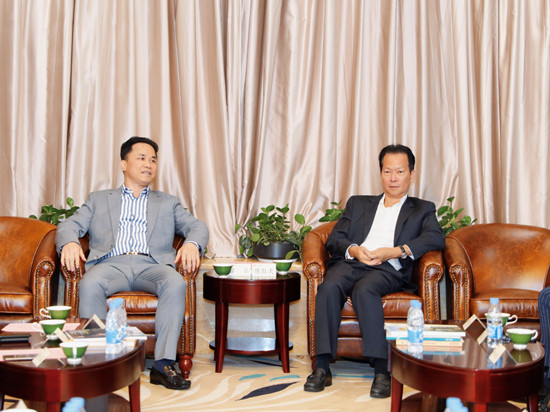 Dr. Chen Hongtian and President Cai Yue deep in conversation at the meeting
During the meeting, Dr. Chen Hongtian welcomed the arrival of President Cai Yue and his delegation, and introduced the recent developments of Harmony Club, as well as his personal experience of running the club. Dr. Chen said that Harmony Club has been established for 9 years and was fortunate to have received support from leaders at all levels. The Club is a patriotic organisation that embraces the Party, the country, and Hong Kong. It is highly aligned with the Party and the government's policy directives, speaks the truth, and supports its members and businesses to overcome challenges in their operation and development. When members and businesses are facing a crisis, the Club will tap on its extensive network to support each other and overcome any hurdles along the way.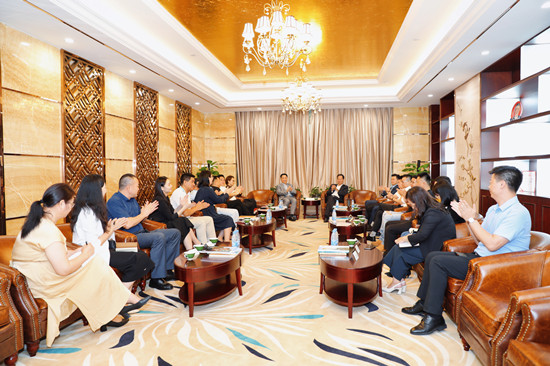 An engaging and cordial atmosphere at the meeting
President Cai Yue shared on the development of the Shenzhen Industrial Park Association, and introduced the members of the association present at the event. He applauded Harmony Club for becoming a very influential business association in China, and that he often comes across coverage on Harmony Club and Dr. Chen Hongtian in mainstream publications. President Cai was impressed by Dr. Chen Hongtian's success, charismatic, low-key, pragmatic, selfless, and righteous personality. Dr. Chen Hongtian is a man of action, and he has set an exemplary role model in both his work and in running his association. He concluded that as Shenzhen Industrial Park Association is a relatively young group, with equally young members, he hoped that Harmony Club would be able to lend its support to its members for their future development.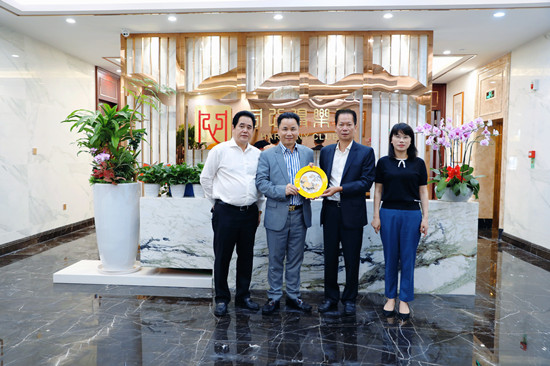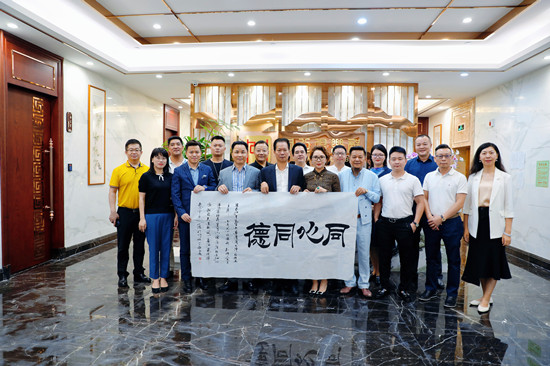 Exchange of souvenirs and taking of group photos tocommemorate the occasion
Sheng Qing, the Executive President of Shenzhen Industrial Park Association, and the group's members including Huang Yuning, Zhang Weiwen, Huang Shuiqian, Liu Changchun, Hu Lengfei, Ding Shaowen, Wu Juan, Cao Guo, Deng Zhikai and Chen Wei, members of the banking industry, as well as Liu Nanxing, the Executive Deputy Secretary-General of Harmony Club also attended the meeting.