Dr. Chen Hongtian is the Chairman of Cheung Kei Group, a member of the 11th, 12th, and 13th National Committee of the Chinese People's Political Consultative Conference, a Justice of the Peace appointed by the HKSAR (lifetime appointment), an award recipient of the Silver Bauhinia Star granted by the HKSAR Government, a Doctor of Economics and Visiting Professor at the University of International Business and Economics, and Chairman of Harmony Club.
Dr. Chen is deeply concerned about social issues such as poverty alleviation and the education sector. As an active philanthropist, he has donated over HK$500 million through his vast commitments to different causes. In 2011, he was honoured as one of the 100 "Global Outstanding Chinese" by the Global Outstanding Chinese Association and Chinese Literature Press. Under his leadership, Cheung Kei Group received the "Charitable Enterprise Award" in the first inaugural Pengcheng Charity Award. Dr. Chen was a recipient of the "Outstanding Contribution Award" in the 2nd Pengcheng Charity Award. In the subsequent years, Dr. Chen went on to receive Gold Awards for his Individual Charitable Giving in the 3rd and 4th Pengcheng Charity Awards, and yet another Individual Charitable Giving Award in the 5th Pengcheng Charity Awards.
In addition, Dr. Chen Hongtian has actively contributed to the development of the country in his capacity as a member of the National Committee of the Chinese People's Political Consultative Conference (CPPCC) for many years. Along with the different roles he has taken on for various social causes, Dr. Chen's efforts in creating a platform for the business community in Shenzhen and Hong Kong to communicate, has been very well-received. It has also fostered more interaction, a stronger support network, and collaboration between the private and public sector in both cities. In 2012, Dr. Chen was elected by Shenzhen non-public entrepreneurs as the Chairman of Harmony Club in its first and second year. Harmony Club is widely regarded as the largest civil society organisation in China in terms of its overall asset management. Currently, the assets under management (AUM) of Harmony Club members and their respective businesses have reached approximately 11 trillion Chinese Yuan.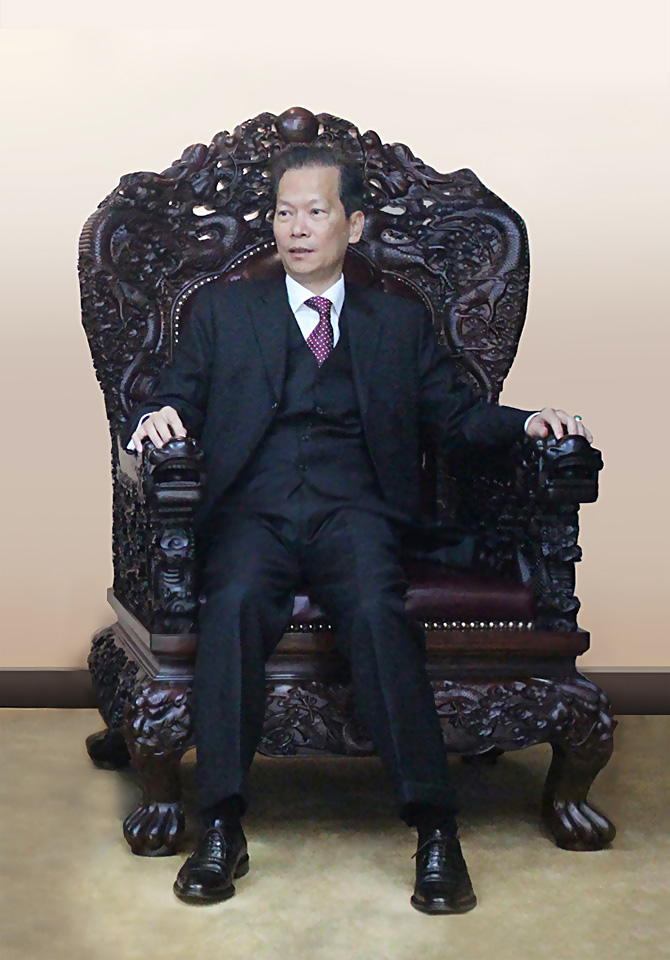 CPPCC Member
Justice of the Peace (Tenured) of Hong Kong
Silver Bauhinia Star, awarded by the HKSAR Government
Member of the 8th Guangdong Provincial Committee of the CPPCC

Standing Member of the 9th Guangdong Provincial Committee of the CPPCC
Chairman of Harmony Club
Co-Chairman of the Guangdong-Hong Kong-Macao Bay Area Entrepreneurs Union

Permanent Honorary President of the Friends of Hong Kong Association Development Foundation

Chief Chairperson of the Federation of Hong Kong Guangdong Community Organisations

Executive Vice-Chairman of Hong Kong Volunteers Federation
Honorary President of China Civil Education Promotion Association of Hong Kong
Honorary President of Hong Kong Association of Professionals
Executive Vice President of The Association for the Promotion of Global Chinese Traders Fraternity
Honorary Citizen of Shenzhen City
Ph.D. in Economics, University of International Business and Economics (UIBE)
Visiting professor at UIBE
To Achieve Success with Integrity
and to Move Forward Steadily
Cheung Kei is a Chinese word with the same pronunciation as the word "long-term" in Cantonese. Definitions of "Cheung Kei" in the dictionary include auspicious, blessings and everlasting. It is our hope that the Cheung Kei Group can be harmonious as it moves forward steadily and achieves sustainable development.
It has taken twenty eight years for us to become the large international investment group that we are today. At least 80% of businesses fail, so we feel fortunate to have grown "steadily". We are very aware that a company cannot achieve sustainable development without integrity. Therefore, we are determined to set a good example in this regard.
In order to turn Cheung Kei into a "Time-honored Brand", we rely on stringent risk prevention measures. These include warning and risk prevention measures against debt ratio. We also conduct regular tests similar to physical health examinations, then adjust areoperations accordingly to reduce risks. Despite Cheung Kei's current size, our existing debt is very low. Our assets are evenly distributed across Hong Kong, Shenzhen, London, Shanghai and other major cities in Europe and Southeast Asia. These assets include real estate, equity, investment funds, bonds and stocks. These assets are structured to allow strict control over investment risks.
For the past 29 years, Cheung Kei has grown alongside Hong Kong and Shenzhen. These are places that we have deep affection for. During this time, Cheung Kei has offered support to a variety of social welfare activities and charities, with donations totaling over 500 million HKD. Cheung Kei was grantedthe "Charitable Enterprise Award" at the First Pengcheng Charity Awards and won the gold medal at the Glorious Career Contribution Awards in Guangdong Province. I was also fortunate to have been awarded the Pengcheng Charity's "Outstanding Contribution Prize" that marked the 30th anniversary of the establishment of Shenzhen Special Administrative Region in 2011, the "Gold Medal for Philanthropy" at the third Pengcheng Charity Awards, the "Global Outstanding Chinese" award, and to have been selected as one of HongKong's twenty most influential and outstanding people at the twentieth anniversary of Hong Kong's return to the motherland in 2017.
Cheung Kei would not be where it is today without the many friends who have helped and supported us. These friends will never be forgotten, whether they hold a prominent position, continue in the same role or retire. And for those who have misunderstood us or even hurt us, we will continue to treat them with the greatest tolerance.
Chairman of Cheung Kei Group:Dr. Chen Hongtian