Dr. Chen Hongtian Attending Business Symposium with Li Shuguang, Member of the National People's Congress, Party Secretary & Chairman of Wuliangye Group
2021.04.27
On April 26, 2021, Dr. Chen Hongtian, a member of the CPPCC National Committee, a Justice of the Peace appointed by the HKSAR, Chairman of Harmony Club, and Chairman of Cheung Kei Group held a business symposium with a business delegation that includes Li Shuguang, a member of the National People's Congress and Party Secretary & Chairman of Wuliangye Group. The event was held in Cheung Kei Building, and the participants discussed topics such as Chinese liquor culture and ways to strengthen business cooperation. After the symposium, a number of renowned entrepreneurs and members from Harmony Club, as well as Wang Shunsheng, former Chairman of Shenzhen CPPCC, continued with an exchange session at the Harmony Club Building.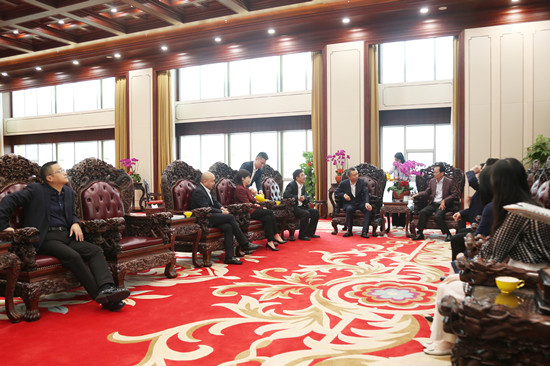 Dr. Chen Hongtian and Chairman Li Shuguang exchanging their insights
At the meeting, Dr. Chen Hongtian extended a warm welcome to Chairman Li Shuguang and his delegation and gave his acknowledgement of Wuliangye's contribution to the heritage of Chinese liquor culture, and to the liquor industry. Dr. Chen added that Wuliangye, as the premier brand of baijiu liquor in China, is loved by all Chinese people. Wuliangye Group achieved sales revenue of over 110 billion yuan last year, and the strong growth momentum shows that the future development of the brand will continue to be positive. He hopes that Wuliangye Group can continue working with more businesses affiliated with Harmony Club, such as Cheung Kei Group. He looked forward to promoting the stability and development of the Chinese liquor industry with the brand, under the new policy directive of "Dual Cycle" development.
Chairman Li Shuguang introduced the extensive history and culture of Wuliangye and the development history of the company to Dr. Chen Hongtian. He said that the history of Wuliangye can be traced back to 3000 years ago when the liquor was brewed with five kinds of grains - sorghum, rice, glutinous rice, wheat and corn - through traditional techniques. They reflecting the Wuxing - five phases - of Chinese culture and inherited the health and wellbeing aspect of Chinese liquor, which is the feature of the liquor that distinguishes it from other alcohol brewed with a single grain variety. In recent years, Wuliangye Group has made great transformation with its new development strategy, it has achieved good results and grown steadily. Dr. Chen hopes that Cheung Kei Group and other businesses affiliated with Harmony Club can play a part in the Group's development, seize the opportunity and move forward together.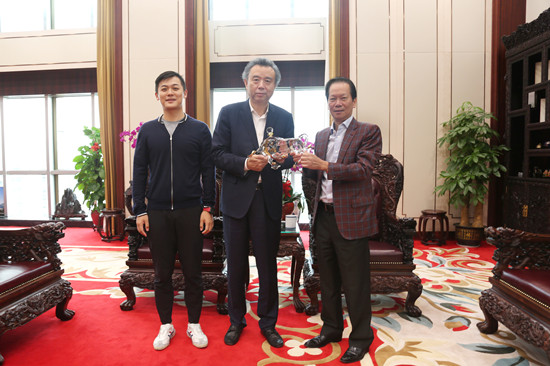 Exchange of souvenirs
Afterwards, Chairman Li Shuguang also presented souvenirs to Dr. Chen Hongtian and visited the office premises of Cheung Kei Group.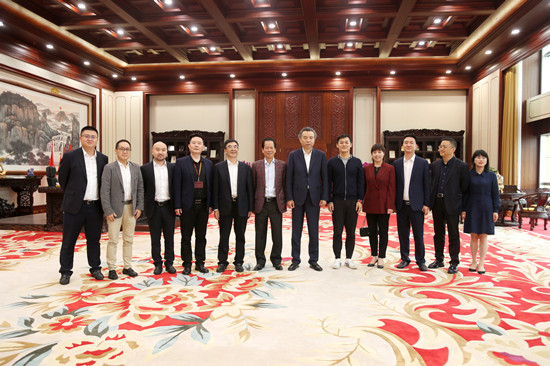 Taking a group photo to commemorate the occasion
In addition, Dr. Chen Hongtian and Chairman Li Shuguang delivered speeches at the exchange session held at Harmony Club Building. Chairman Wang Shunsheng spoke highly of Wuliangye Group's contribution to the Chinese liquor industry. Harmony Club entrepreneurs also held a tasting session of Wuliangye's products, such as the newly launched Classic Wuliangye and the new international fashion crossover Wuliangye bottle.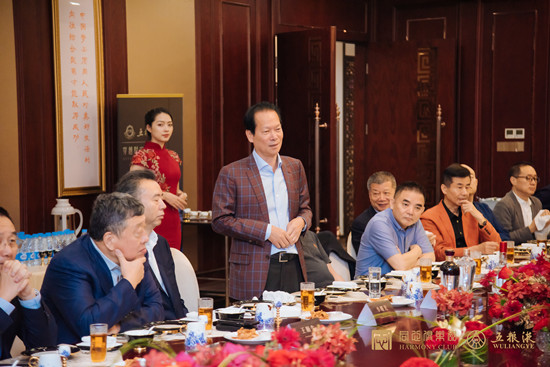 Dr. Chen Hongtian giving a speech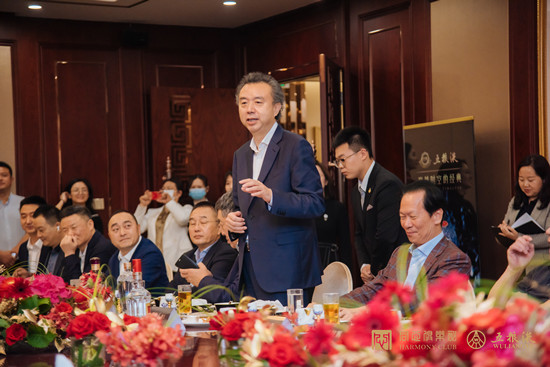 Chairman Li Shuguang giving a speech
Li Xiaoyong, Chairman of Shenzhen Huachengfeng Group; Zou Jianmin, Chairman of Chenda Holding Group; Shu Xin, Chairman of the Board of Kingao Holding Group Co., Ltd; Wang Lan, President of Shenzhen CATIC Wellness Group; Wang Huajun, Shenzhen YUTO Packaging Technology Company Limited; Wang Wenqing, Chairman of Shenzhen Qinggu Investment Company Limited; Liu Quanhui, President of Shenzhen Auratic Co., Ltd.; Liu Chaoxia, Chairman of Shenzhen TOP Healthy Medical Co.; Qiu Jianmin, Shenzhen Derun Electronic Co., Ltd; Yu Xin, Chairman of Shenzhen Yanfeng Energy Investment Holding Co., Ltd; Chen Qinpeng, Chairman of Shenzhen Qixin Group Co.; Lin Zhenwei, Chairman of Shenzhen Tower Investment Group Co.; Zheng Guiquan, President of Silk Park of China; Zhao Zhiming, Chairman of TMSON Investment Holding Group; Xia Daoning, Chairman of Yi Fang Group; Guo Deying, Chairman of Spring Woods Group; Huang Yucun, Chairman of Shenzhen Chuangjie Technology Co.; and Cai Wenchuan, Chairman of the Board of Directors of Shenzhen Budeliao Holding Group; Feng Lun, a renowned entrepreneur; Liu Donghao, a member of the Harmony Club Youth Committee; Wuliangye Group's deputy general manager Zhu Zhongyu, regional marketing director Zuo Jian, and Guangdong marketing region general manager Zhao Wu, as well as senior business executives of businesses affiliated with Harmony Club members such as Cheung Kei Group, Excellence Group, and Guozhonglian Group, and Liu Nanxing, the Executive Deputy Secretary General of Harmony Club also attended the meeting.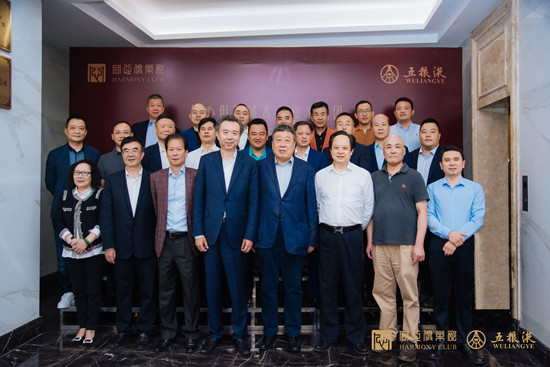 Group photo of Dr. Chen Hongtian, Chairman Li Shuguang and business representatives of Harmony Club